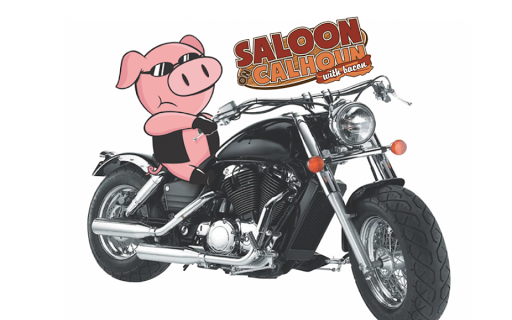 Everything is Better with Bacon
As a sports bar known for "bacon" we dedicated a page directly focused on everything we offer with bacon. You can get free bacon during certain times. You can also have bacon with anything on our menu, including drinks! Everything Is BETTER With BACON! We have a "Bacon" Happy Hour every day from 4pm – 7pm, where everyone can pig-out on ALL YOU CAN EAT BACON and other Delicious Appetizers. And let us not forget, our cuisine is fresh and prepared daily with extreme affection by our Chef. And for the "pork-minded" person, we go the extra step and serve bacon-infused Vodka in our Bloody Mary's, Bacon appetizers, Bacon burgers, Bacon pizza. Bacon, Bacon, Bacon...YUMMY! Can you say "this little piggy went to the Saloon on Calhoun?" See a theme here? You can get bacon on just about any of our food dishes and drinks at the Saloon. Our specialty is thinking out of the box with our favorite food (and yours), "bacon!" Bring us your bacon request and we will see what we can do for you!
i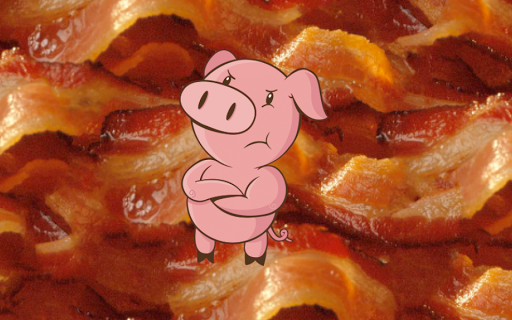 Basket of Bacon
We pile two types of bacon (Sweet Peppered Bacon & Smoked Applewood Bacon) into a basket. Mmmmm… bacon!!
7.45
Bacon wrapped mozzarella sticks
Only a bacon bar would take the time to lovingly spiral thick-cut bacon around four wonton-wrapped mozzarella sticks before frying them to a golden brown. Sliced for easy sharing and served with our tangy marinara sauce.
9.49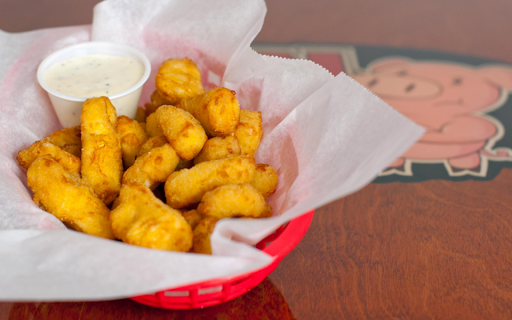 Fried Cheese Curds
Squeaky-fresh local cheese curds dipped in our house beer batter and fried to order. Served with our bacon Parmesan dipping sauce. A perfect companion to any entree or beverage!
7.99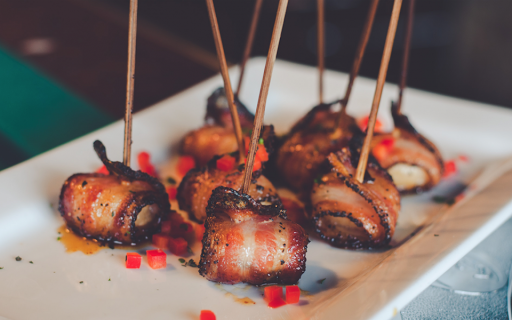 Rumaki
Thick black peppered bacon is wrapped around 8 water chestnuts, glazed, then baked. Served individually skewered for easy handling and served with house-made blue cheese dipping sauce.
$8.99
Beer battered mushrooms
We hand select the perfect size mushrooms and gently dip them in our signature batter and fry to perfection. Carefully placed all around our bacon-Parmesan sauce, these fun guys are served ready to party!
8.49
Saloon Nachos
Our house-made fresh tortilla chips are piled unusually high, then smothered in our melted cheese sauce and decorated with lettuce, pico de gallo, roasted corn, black olives, bacon bits, and topped off with a heaping scoop of sour cream. Add chicken, BBQ pulled pork or marinated steak $3.99. Add fresh Guacamole $2.99
Enough for a couple people $10.99
Enough for four $19.99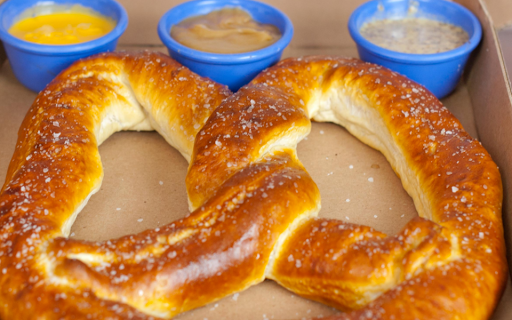 B.A.P. (Big A** Pretzel)
The delicious Big A** Pretzel is served hot and fresh, buttered and sprinkled with kosher salt. Comes with caramel butter, melted cheese sauce, and honey mustard for dipping.
13.49
Bacon Wrapped Jalapenos
Five fresh whole jalapenos, stuffed with smooth cream cheese and hand shredded cheddar cheese, then wrapped in thick- cut bacon strips. Served with a homemade sweet Thai chili sauce.
11.49
Reuben Dip ~ Shareable serves 4
This dip comes served in a skillet, made with tender corned beef, cream cheese, sauerkraut, and Swiss cheese, baked to perfection. Served with toasted marbled rye bread dippers and drizzled with Guiness Thousand Island
11.95
Quesadilla
We stuff our flour tortillas with cheese and anything else you care to add, bake, then pan-sear in bacon butter to a perfect golden brown. Lettuce, pico de gallo, bacon bits, black olives, and sour cream served on the side.
Add grilled chicken, BBQ pulled pork or marinated steak $3.99 Add fresh Guacamole $2.99
11.49
Fry Baskets
Sometimes all you need is something filling. We want to make sure your are fulfilled. Waffle fries, sweet potato fries, onion straws or tots, just let us know! Loaded (cheese sauce, bacon bits, sour cream)
Plain $6.75
Loaded $8.25
Gourmet BONELESS Chicken Wings
GF Saloon boneless wings are always carved in house! They are marinated, hand battered, fried to perfection
then tossed in our award-winning sauces!
1 pound of boneless wings served with celery and carrot sticks. Homemade Ranch or Blue Cheese sauce $.50
Garlic Parmesan - If you desire the taste of wings with no heat, try our buttery garlic sauce. These tasty wings are served sprinkled with parmesan cheese for that perfect flavor combination!

Teriyaki - These wings are a sweet, salty treat without the heat. If you like Teriyaki, these wings are for you!

Sweet Thai Chili - Perfect combination of sweet and heat. Just enough of each.

Bacon BBQ - A little sweet, a little spicy, the distinct flavor of bacon in your BBQ… Mmmmmm so good!

Saloon - Our most popular sauce. Closer to traditional buffalo sauce with our own citrus twist on flavor. Medium heat will let you know you're alive without having a fire inside.
Ghost Wall- A dry rub of Ghost and Chipotle peppers blended in a perfect mix of south of the border flavor and heat. This is only for the trained pepper palet. Caution - hot.
$13.99 Boneless ONLY
BYO Pizza
Made to order crispy thin-crust pizza!
Made to order crispy thin-crust pizza! 12" $14.99 or 16" $19.99
Choose your:
Sauce - Tangy Italian, Bacon BBQ, Bacon Alfredo
Cheese - shredded mozzarella or shredded cheddar

Meat -Italian sausage, pepperoni, bacon, diced chicken breast, pulled pork, corned beef or marinated steak. $2.00 each

Toppings - red onion, black olives, green olives, mushrooms, green peppers, tomatoes, pineapple chunks, jalapenos, banana peppers. $.75 each

* Consuming raw or undercooked meats, poultry, seafood, shellfish or eggs may increase your rise of foodborne illness, especially if you have certain medical conditions
12" $14.99
16" $19.99
Classic Hamburger
All our burgers are ½ lb fresh Prime Certified Angus beef which we season and grill to temp. Our buns come delivered right from the bakery. We present a fantastic base for a great burger, the rest is up to you! Choose to add cheese $1.00 more - cheddar, American, mozzarella, pepper jack, provolone, Swiss, or blue cheese.

Toppings - lettuce, tomato, mushroom (sauteed or raw), onion (sauteed or raw), pickles, pepperoncinis,jalapenos $.25 ea
Spreads - garlic aioli, bacon jam $.50 ea
Extras - sweet peppered bacon strips, smoked applewood bacon strips, over-easy egg, avocado $1.50 ea
$8.49
Garlic Bread
Garlic bread - House made garlic and herb butter on fresh baked French bread. Served with our homemade zesty marinara dipping sauce. $6.95 Add Mozzarella cheese for $1.00
6.95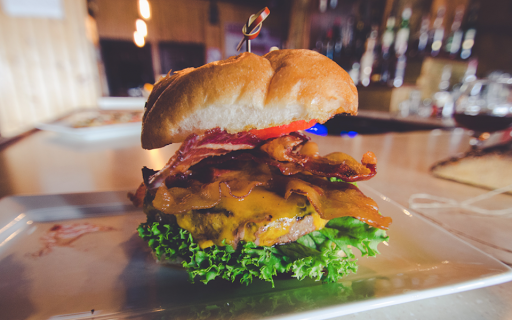 Saloon Burger
Our signature and most ordered burger! Flavor leaps at your taste buds from this house seasoned burger topped with melted cheddar cheese, sweet peppered bacon strips, smoked applewood bacon strips and garlic aioli.
$11.99
Patty Melt
Patty Melt - Saloon- seasoned burger served on toasted rye bread, topped with Swiss cheese, sauteed onion and homemade bacon jam. $12.49
$12.49
Pesto Chicken Pasta
Diced grilled chicken ( or crispy), homemade sunflower pesto sauce, topped with parmesan cheese. Served with garlic toast. $13.95
$13.95
Mac Smack up Bacon Alfredo
Oh yes we did! We took our two favorite pastas and had them meet at the bacon! One big bowl of two amazing pastas comes delivered with a bacon strip divider. Our creamy cheddar cheese mac is outstanding. The only thing that can compete is our equally creamy bacon alfredo. We couldn't let it end in a tie, so we added a couple pieces of garlic toast and called it a win for all! Add chicken breast, BBQ pulled pork or marinated steak. $3.99
$16.75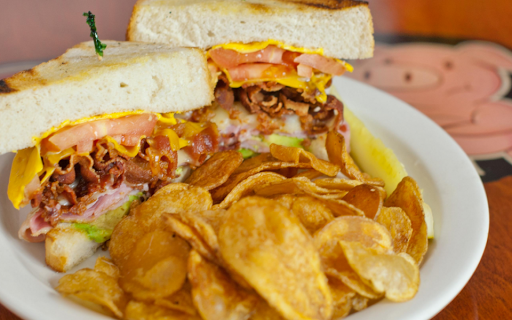 B2LT
Our bigger version of the BLT. A heaping amount of smoked applewood bacon and our sweet peppered bacon on texas toast along with lettuce, tomato and garlic aioli. The mouthful of bacon you have always dreamed of! Add avocado or fried egg $1.50
$10.49
Deep-Fried Reuben Wrap
BACK BY POPULAR DEMAND!!!
Tender corned beef, Swiss cheese, sweet peppered bacon and sauerkraut wrapped together in a flour tortilla and deep fried. Topped with Guinness 1000 island dressing, this unique delight HAD to come back!
(Also served as a traditional Reuben sandwich on toasted Marble Rye)
$14.95
Chicken Caesar Wrap
Diced chicken breast, chopped romaine lettuce, parmesan cheese, crumbled egg, diced tomatoes, croutons and caesar dressing wrapped and grilled in a flour tortilla.
$11.99
Monterey Chicken Sandwich
Served on a sesame bun, grilled chicken breast is covered with cheddar, mozzarella, lettuce, sliced tomato, pickle chips, onion straws, and topped with sriracha ranch sauce. So good!
$13.50
BBQ Pulled Pork Sandwich
Our Saloon BBQ'd pulled pork stacked with onion straws and coleslaw, served on a pretzel bun. A simple pleasure sandwich.
$10.49
Cheese-Steak Bacon Melt
Marinated steak, sauteed peppers and onions smothered in provolone cheese and topped with bacon jam on a fresh haogie bun. Served with homemade au ju.
$12.99
Saloon Wrap
Choose your protein: Grilled chicken, BBQ pulled pork or marinated steak.
We add mixed greens, diced tomatoes, chopped onion, bacon bits, shredded cheddar and ranch dressing wrapped in a flour tortilla.
$12.99
Brookfield's Best Fish Fry
We have fresh Cod brought in weekly, then coat 3 filets in house-made beer batter and fry to a golden crisp.
For a healthier option, we offer 4 filets, seasoned and baked to perfection.
Each meal includes your choice of: waffle fries, tater tots, sweet potato fries, onion straws or potato pancake. Plus cole slaw, rye bread, tarter sauce and a lemon wedge.
Join us for live music, bands begin at 8:00pm. (September through May)
$14.99 Beer Battered
$15.99 Baked
Saloon Salad
A large portion of mixed greens are tossed together with your chosen dressing and grape tomatoes, diced red onion, black olives, bacon bits, and shredded cheddar. Garnished with a hard-boiled egg and croutons.
Add grilled chicken, BBQ pulled pork or marinated steak. $3.99 Add fresh avocado $1.50
Dressings - Ranch, Blue Cheese, French, Italian, 1000 Island, Raspberry Vinaigrette
$9.49
Add grilled chicken, marinated steak, or ham. $3.75
Caesar Salad
Fresh romaine lettuce, shredded parmesan cheese, diced tomatoes, egg crumbles, crushed black pepper, croutons, and creamy caesar dressing.
Add chicken, BBQ pulled pork,corned beef, marinated steak, or fresh guacamole $2.99
$8.99
Soup of the Day
In house recipies, fresh ingredients, always different soups. When soup is done right, it solves many problems. Our chefs do soup right!
Cup $3.99
Bowl $6.49
Chili
Every now and then, it takes chili to makes things better!
Cup $4.49
Bowl $6.49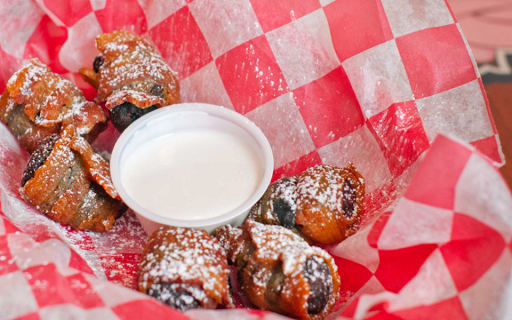 Deep Fried Brownie Bites
Fox 6 news wouldn't have made a big deal over these if they weren't amazing! Sweet and salty come together in this perfect treat! Brownie bites are served hot and soft (with or without them wrapped in bacon). A marshmallow dipping sauce completes the experience.
$6.00
Wrapped in bacon $7.00
Buffalo Chicken Wrap
For those who like a little more heat in their wrap! Crispy fried chicken, Cheddar cheese, lettuce, Saloon sauce and Blue Cheese crumbles. $11.95
11.95
Buffalo Chicken Mac
This mac gets smacked up with some heat! Crispy fried chicken, homemade buffalo cheese sauce topped with blue cheese crumbles. $19.95
19.95
Saloonified Cuban
Thick carved ham, pulled pork, Saloonified mustard, pickle slices,bacon jam and Swiss cheese. Served on a pressed hoagie. $14.95
$14.95
Chicken Pesto Sandwich
Served on a sesame bun, pesto smothered grilled chicken breast is topped with provolone, lettuce, sliced tomato, and grated parmesan cheese. $12.95
$12.95